PIC12F675 Electronic Dice
Electronic Dice by Nina Gajjar

A Simple PIC12F675 Electronic Dice
I built this small Dice because we had a spare corner of PCB un-used of a larger PCB design. Project originally belong to Pete Griffiths and I thank his efforts in making such a nice project and make available code for free use.
Purpose of this project was to test my ability to program small Microchip devices (12F Series) and see if this work well. It did!!
I do not intend to make kits of this project but may do so for schools or young groups if interest is expressed.
Board is powered from an USB port considering all young and old have a PC anyway!!
Have fun!
Completed Electronic Dice: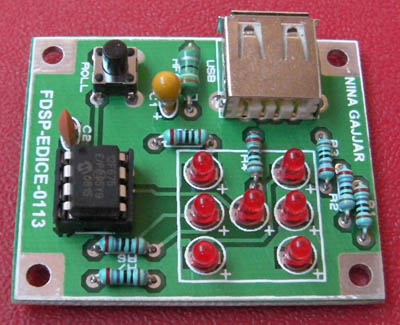 Click to enlarge
---
Electronic Dice PCB TOP View: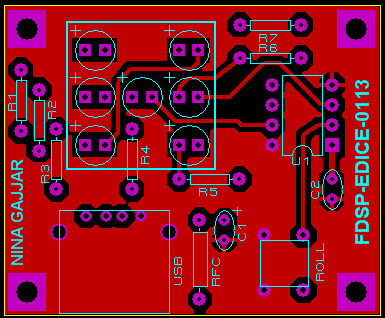 ---
Electronic Dice Schematic: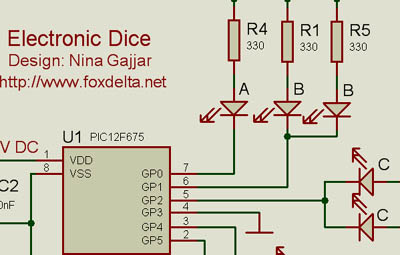 Click to View Full Schematic
Electronic Dice Document, Schematic and files:

Dice Info Document


Schematic & Kit Parts List


Color Schematic

PIC12F675 Hex


Want to make your own boards? here are Gerber files in RS274X for Double Sided PTH PCB

Datasheets of Parts used in this Project

PIC12F675

Buy Kits online
Electronic Dice with PIC12F675
Kit Parts List
---

PCBs for this project may be available from my Paypal shop
---
2CheckOut.com Inc. (Ohio, USA) is an authorized retailer for goods and services provided by Fox Delta School Projects & Kits.
Yahoo Group Messages
School Projects

Hamcom
Crystal Radio
FM Radio
PIC Clock
PIC Counter
Water Tank Controller
Metal Detector
Regulated PSU
Electronic Dice
VU Meter
Light Switch
Galileo2
Buy Kits On-Line

Resources

Radio Theory
What is Amateur Radio
Radio Calculators
Ham Radio India
Gita in English
Language Translation
Yahoo Group

My Favorite!!

Useful Links